Programs & Virtual Events
by: Boys & Girls Clubs of Whittier Team
First Quarter| January- March
The students of the Los Nietos School District receive school supply kits: Recently, the staff members from the Boys & Girls Clubs of Whittier (BGCW)and the Los Nietos School District, came together and shared resources to build some school supply kits.
Each kit contained items tailored to the needs of both elementary and middle school-aged students. In the end, this effort garnered a total of 1,400 kits that were then provided to every student in the district! Face masks did not hide the happiness seen through the eyes of the recipients.
Considering all the challenges this past year has brought, BGCW has been fortunate to continue supporting the
needs of their students. We hope those students enjoy their supplies and have an excellent school year ahead.
A special celebration to honor our distinguished members & staff
On February 16th, the evening opened with the Youth of the Year (YOY) chair, Cheryl Estep, extending a virtual invitation to all by inviting participants to "sit back, get comfortable, and get ready to be amazed by the young people you will be hearing from tonight." Despite being a virtual gathering rather than the usual in-person event, the excitement, and anticipation were all the same. "The Youth of the Year designation is the highest honor a club can bestow on its members," explained master of ceremonies, Mr. Jason Zulke. He added, "It is proof of the impact the club makes in transforming the lives of young people."
This year's YOY winner was Keyaira Bascus, a junior at La Serna High School. Keyaira shared how the guidance she has received since becoming a part of the Boys & Girls Club in 2018 has inspired her to be confident and helped her find her voice. Motivated by her passion to help people grow mentally and physically, Keyaira aspires to be either a therapist or physiologist. Reflecting on her journey since moving to Whittier and joining the Boys & Girls Club she adds, "I never would have thought the very city where I felt the loneliest would be the place where I met my closest friends. I truly appreciate the guidance I have received." Keyaira now moves on to compete in the County competition for the title of L.A. County Youth of the Year this
month.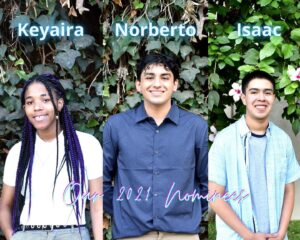 Fellow nominee and classmate Norberto Reyes has been part of the Boys & Girls program for four years now. He enjoys being of service to others, a commitment he cultivated when he participated in a project called Go Baby Go that tasked him to convert toy cars into mobility-assisted devices for children with disabilities. Norberto's favorite school subject is anatomy, which has inspired him to study medicine and become a neurosurgeon.
A junior at Whittier High School and the final nominee, Isaac Guerrero, enjoys the sports programs offered at the Boys & Girls Club of Whittier. As a math enthusiast, Isaac wants to study Business Marketing and hopes to own his own business one day. He expressed appreciation for his mentors and everyone involved in the YOY activities for always providing encouragement and instilling faith in their members.
All three finalists will receive a scholarship worth $3,333 from the BCM Foundation to support their higher education goals.
All three nominees reflected the values that drive the Boys & Girls Club -- the power of community and mentoring for young people.
Executive Director Oscar Hernandez had the privilege of honoring special staff members with the Norm & Theola Kirschenbaum Service Award. The winners were recognized for always going above and beyond the call of duty to provide exceptional support to the members of the Boys & Girls Club.
Congratulations to:
Felicia Luna | Site Coordinator
Mariana Aguilera | Membership
Rosie Diaz | Program Leader
Another group that garnered special recognition during the event was students from participating school districts receiving the Outstanding Member Award. Congratulations to:
Whittier School District: Sandy Ruano, Samantha Soto, David Martinez, Raymond Villa
East Whittier School District: Erika Lopez, Karoline Centeno, Evan Navarro, Noah Garcia, Julianna Huerta
Los Nietos School District: Ashley Llamas, Francisco Cuevas, Destiny Escobar, Camila Rodriguez, Roselyn Wattree
South Whittier School District: Angeline Jimenez, Itzcoatl Acuna, Julian Amador, Luis Robles, Denise Robles
Whittier Union High School District: Jeremiah Parra
El Rancho Unified School District: Nathan Sandoval
During a night with many accolades, a surprise guest popped in to offer some words of encouragement to the YOY nominees. Christopher Bridges-- better known as Ludacris-- appeared on video and expressed how proud he was of the nominees current accomplishments and future goals. "It let's me know your future is bright," said Ludacris as he encouraged YOY nominees to continue pursuing their dreams.
The Youth of the Year event serves as one of the Clubs main fundraisers which offsets costs or short falls related to program funding. This year, we raised a net total of $44,626 thanks to the work of the committee, staff, sponsors and donors. If you missed our event and would still like to make a donation, visit us at www.bgcw.org. Your support would be greatly appreciated!
Lastly, the Boys & Girls Club of Whittier extends a special thanks to all of our wonderful sponsors who made this event possible. We truly appreciate the partnerships and continued support of the services that BGCW provides.
On our way up!
As we work on to modernizing our building, we are continuously looking to how we can best provide access to all program areas within our building for members to independently and safely travel between each floor. We are excited to share that we are looking into adding an elevator to our Main Clubhouse in the near future! An elevator from the ground floor to the second will provide easy and seamless travel for all our members, staff and guests. We look forward to sharing this journey in the coming months.